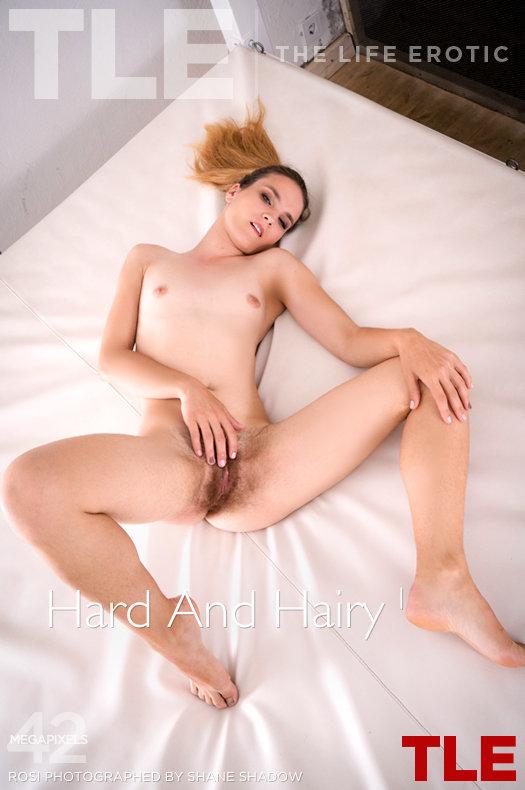 File size: 388,79 MB
Release Year: 05.03.2023
Cast: Rosi
Resolution: 4752x3168px
Tags: Solo, Orgasm, Masturbation
JPG | 121 | 4752x3168 | 388,79 MB
Kinky Rosi, a striking blonde with ice-blue eyes, is getting hot and horny in a dungeon room. Kneeling on a white leather bed, she flaunts a sexy ass made for spanking. As the camera homes in closer and tighter, it becomes obvious that she's one very hairy girl. The fuzz escaping from either side of her thong-back teddy extends up and out from her ass crack and down her inner thighs.
Rosi splays her cheeks and poses doggy-style, showing off her plentiful pubes from the rear. Then she turns to tease with a sneak peek from the front, while she spanks herself with a black-leather flogger. Her Dominant watches the action and decides she deserves harder strokes. As Rosi submits, her hairy butt is punished, and she yelps each time the flogger lands and raises hot-pink welts on her buns.
Soon, her unshaved pussy is oozing wet and craving attention and, with permission, she performs a slow strip. She exposes her small, natural breasts, then loses the teddy. Sighing with pleasure, she reaches down between her legs to give her slit a rub, providing an even more tantalizing view of her bush.
She sinks down onto her stomach then rolls over, squealing as her whip-stung ass connects with the hide bed. At last, she reveals the full glory of her hairy mound, crotch and crack. Her fingers part the thicket of soft brown hairs, and the pink between them is so slick and smooth.
As she probes and plows her slit, taking time over her pleasure, her Dominant decides to up the ante with a few licks of the flogger. She moans in protest, then bites her lip, as the whipping sends zings of pleasure through her. Suddenly she cums and, as her orgasm peaks then fades, her fingers ruffle her pubes, slathering them with her cream…