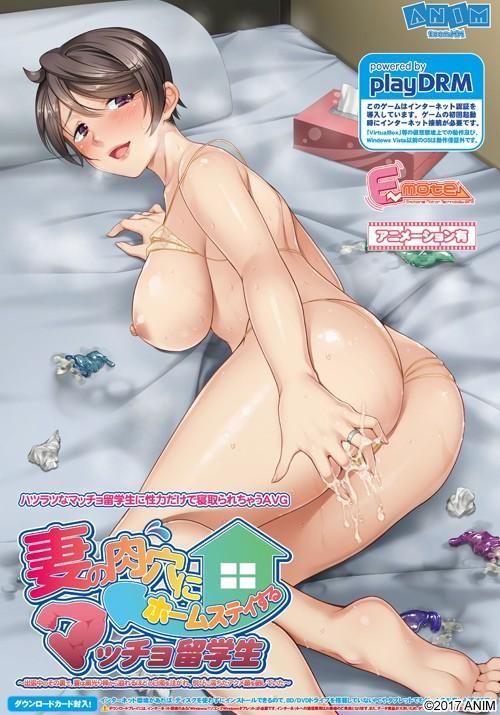 File size: 4,3 Gb
Tags: ADV, Animation, Netorare, Housewives, Bikini, Beach, Toys, Big tits, DFC, Anal, Blowjob, Titsjob, Footjob, Group sex
Year of issue: 2017
Release date: 2017/05/26
Genre: ADV, Animation, Netorare / NTR, Housewives, Bikini, Beach, Toys, Big tits, DFC, Anal, Blowjob, Titsjob, Footjob, Group sex
Censorship: Yes
Developer / Publisher: ANIM.teamMM
Platform: PC / Windows
Publication type: Original (licensed)
Version: 1.00
Game language (plot): English
Interface language: English
Voice Language: Japanese

System requirements:
OS: Windows XP/Vista/7/8/10, CPU: Core2Duo 2.4GHz, RAM: 256MB, 1280*720, HDD: 4.29 GB DirectX: 9.0
Info:
The Osaki family has hosted exchange students several times in the past, as housewife Akie loves children, but the family's financial situation did not allow them to have a second child in a couple with their daughter Riko. So again, a boy Danny (Daniel) comes to them for a long stay, who ... turned out to be a little older than in the photo provided by the agency, and even a bodybuilding lover, as well as the owner of an extraordinary penis and sex drive, like will become clear a little later. Danny is a little older than Rico and they are both in high school. Soon after Danny arrives, it is revealed that the head of the Tohru family must go on a long business trip to another city. After a short while, it becomes clear that while Tohru fucks like Papa Carlo, in order to achieve the result and the promised promotion so that the family can have another child, on the asses remaining under the same roof with Danny and his valiant enthusiasm Aki and Riko in enough there is literally adventure. And not only on the ass, of course ...