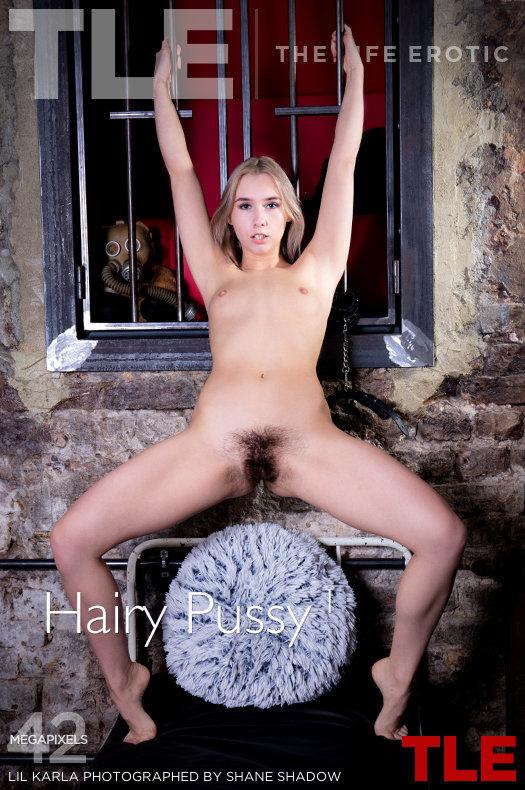 File size: 892,27 Мb
Release Year: 31.12.2022
Cast: Lil Karla
Resolution: 8688x5792px
Tags: Solo, Orgasm, Masturbation
JPG | 122 |  8688x5792 | 892,27 Мb
Sexy Lil Karla has a treat for anyone who enjoys a full bush. She's in a dungeon but has dialed down the kink, aside from her latex teddy. Swishing her blonde hair, she flaunts her firm ass – then bends over to offer a first glimpse of the delights in store. Escaping the sides of the tight thong between her cheeks, are fine, light hairs, thickening to a darker fuzz.
She performs a teasing dance, arching her body as she caresses her slim curves. Each hand slides between her legs in turn, to stroke her crotch through the shiny latex. Then she does a slow strip, exposing her small, perfect breasts and erect, rosebud nipples. At last, she gets naked and reveals the natural beauty of her unshaved pussy. Her pubes are almost black, covering her mound, and dense enough to conceal her fleshy folds.
As her excitement grows, her swollen clit peeks out, half-veiled until her deft fingers splay her puffy lips apart. The contrast is sudden and striking – a gleaming-wet pink surrounded by soft, dark hair. She pauses to allow the voyeuristic camera to relish every detail in close-up, then slips two fingers inside of the stretched opening of her snatch.
Her juices ooze out, immediately soaked up by her bush. She loves how it retains and concentrates her heady musk. Even she is not immune – breathing it in, she is soon lost in erotic oblivion, masturbating hard. Now, her body moves with fluid grace as she assumes a doggy-style crouch and reaches back to plow her pussy.
On her back again, thighs splayed wide and bare feet kicking, she pounds herself until the frenzy of sensation she feels from head to toe converges deep inside of her for just a moment before exploding out once more. As she ruffles her pubes she contemplates shaving them in another movie – but that may not happen anytime soon…