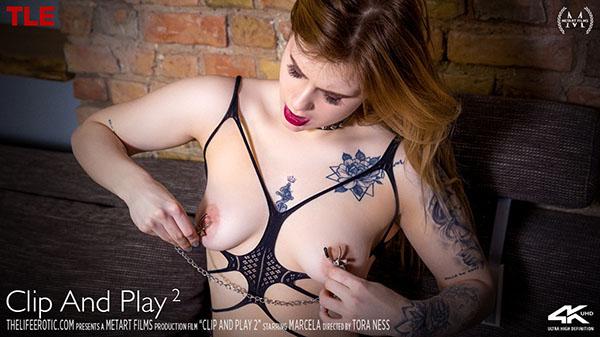 File size: 438,81 MB
Cast: Marcela
Duration: 00:12:06
Resolution: 1920x1080
Tags: Solo, Orgasm, Masturbation, Vibrator, Dildo
00:12:06 Size: 438,81 MB Video: MP4 1080p HD
Sexy tattooed blonde Marcela is getting kinky on her couch, with clamps and metal chains. The movie launches us straight into the action with a sharp close-up of her shaved pussy. Her thong-crotch rides up tight between her ass cheeks and labia, then angles sideways to expose her aroused clit. Marcela clamps her nub, then jiggles the silver connecting chain to tease it.
The camera moves up her body, treating us to a flash of perfect breasts left bare by a strappy black cage teddy. Then we see her face, red-painted lips parted wide as she taps a black vibrating dildo against her tongue. Now she applies the clamps to her nipples, freeing her sensitized snatch for masturbation.
She switches the toy up to full speed, moaning the instant it touches her clit. She gyrates her ass and taps her pink with spit-wet fingers. Next, she clips a clamp on each of her labia, rubbing her tits as sensation floods back into them. Sprawling back she oralizes the dildo, then plunges it inside of her pussy. She pumps and stirs it, then uses it to send vibrations through the chain.
As she plows herself hard again, she moans lustfully, and yanks on a heavy chain looped around her collared neck. Soon, her crimson lips feel the clamps close on them, distorting her mouth and the sounds emerging from it. Then, as she crouches doggy-style and reaches back, she seems totally lost in her own pleasure.
Marcela strips off her teddy, then flaunts and spanks her bubble-butt and magnificent thighs. She blows her toy, gagging as she takes it down her throat – but she can't stand to keep it out of her pussy for too long. Groaning as the chain swings and rattles between her nipples, her cries almost become growls. She pounds her snatch relentlessly, grabbing at her tits, cumming hard and yanking off the clamps as she slumps down on the couch, deliriously satisfied.