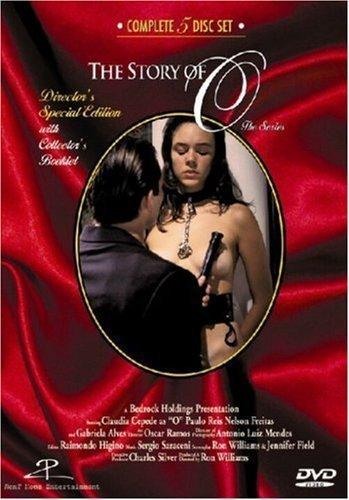 File size: 4.57 GB
Release Year: 1992
Cast: Claudia Cepeda / Paulo Reis / Nelson Freitas / Gabriela Alves / Marcela Altberg
Duration: 05:00:00
Resolution: 676x496
Tags: Erotic, Erotic Vignette, spanish
tory of O, the Series
Release year: 1992
Country: Spain
Duration: 477 minutes
Directed by: Eric Roche
Cast: Claudia Cepeda, Paulo Reis, Nelson Freitas, Gabriela Alves, Marcela Altberg
Description:
Part 1. RITUALS IN THE CASTLE OF ROYASSY
Oh agrees to go with her lover Rene to the castle of Roissy covered with a mysterious secret. Arriving in Roissy, she gets acquainted with the strict rules of the castle. She is blindfolded, whipped and forced to sleep with various men in the presence of her lover. In his love for Rene, O meets all the surprises of the life of the castle with calm pleasure and devotion. With growing pleasure, O is moving further and further away from the familiar world...
Screenshots:
Part 2. RETURN TO ROISSY
René leaves Roissy for five days, so that other men can behave more freely towards O, unbound by his presence. O, forced to constantly give herself to their desire, has an unexpected feeling that her body has become more sensitive and noble. This feeling that her pride is increased through submission surprises and frightens her. O notices a strange desire for Ser Stephen, despite his love for Rene. This attraction confuses her feelings.
Screenshots:
Part 3. SEVENTING JACQUELINE
Gradually, O begins to realize that Rene gave her to Ser Stephen, months pass, and O becomes acquainted with Ser Stephen's inclinations, rituals and practices. She must obediently obey him in everything, follow his instructions, often denying herself. When one day she reveals to Ser Stephen that she feels indifferent to Jacqueline, Ser Stephen will require O to certainly lure Jacqueline into a close circle of communication. Jacqueline succumbs to temptation and moves in with O and Rene.
Screenshots:
Part 4
Sir Stephen places O in the care of Anne-Marie. On her estate of Samos. O finds himself surrounded by a purely female society. The girls living in the estate undergo procedures that strengthen women's feelings. Life in Samos is full of fun and pleasure. Oh constantly catches himself thinking that Jacqueline went through all the same procedures. At the end of her stay in Samos, O becomes the complete slave of Ser Stephen - his initials remain burned on her body.
Screenshots:
Part 5. REVELATION
Oh, as well as Rene and Stephen, are trying to persuade Jacqueline to go with them to the castle of Roissy. Jacqueline agrees to travel with her younger sister Natalie to Ser Stephen's villa. And although she still enjoys loving caresses of Oh, she is very embarrassed and annoyed when she notices burnt marks on her body - the initials of Ser Stephen. However, these subtleties do not bother Natalie. She admires O out of curiosity and desire. Natalie falls in love with Oh and asks to let her know all the details and rules of the voluptuous art.
File Size: 4.57 GB
Quality: DVDRip
Format: DIVX
Video codec: DivX
Audio codec: MP3
Video: 676x496; 1117Kbps; 25.00; DivX
Audio: 128Kbps 48000Hz; MP3