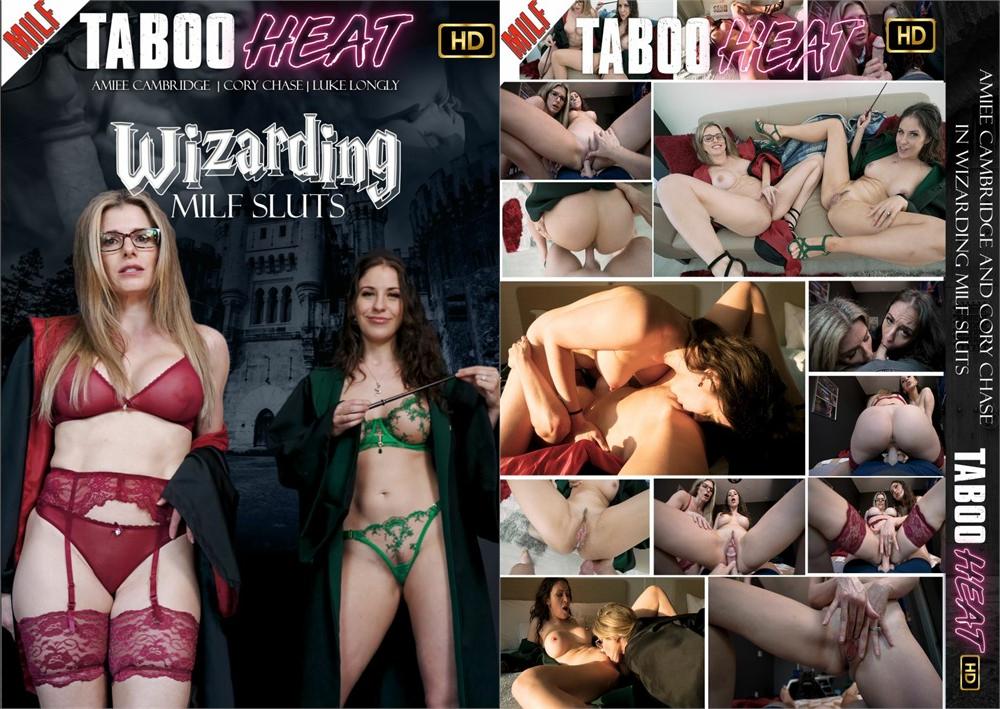 File size: 734 MB / 546 MB / 748 MB / 716 MB
Cast: Amiee Cambridge / Cory Chase
Duration: 17 min
Resolution: 1920x1080
Tags: Big Tits, MILF, POV, Split scenes, Couch, Cowgirl, Doggy Style, High Heels, Hotel Room, Lingerie, Living Room, Missionary, Mom
Amiee and Cory are walking through the hotel walls, wearing nothing but wizard robes and high heels. They find their hotel room and they use their magic wands to open up the door! Cory hops on the bed and she asks her step-sister to do a water spell on her. Amiee picks up her wand and points it at Cory. Corys legs are instantly spread with pleasure as the magic spell takes over! Amiee walks over to where her step-sister is lying on the bed and Amiee starts to eat Corys pussy out...
...After Cory cums in Amiees mouth, Cory lifts her head up and she starts to lick Amiees hard nipples. Then Amiee lies down on the bed and she spreads her legs so Cory can eat her pussy out this time. A few moments later, Amiee hops on top of Cory, and they get into the 69 position. The MILFs enjoy eating each others pussies out at the same time until they make each other cum!
Cory and Amiee are dressed like wizards as they walk into Lukes bedroom. They have magical wands in their hands and Luke is very confused about what is going on. The two wizard MILFs hop on the bed and they start to suck his cock. The two MILFs switch back and forth between sucking his hard cock. Is this a dream? Luke asks the MILF wizards. Its not a dream! Cory giggles, before she walks out of his bedroom. Amiee follows behind her.
Luke opens his eyes and he is shocked to find the two MILF wizards back in his bedroom again. Cory is wearing a maroon colored lingerie set, and Amiee is wearing a green lingerie set; They both have their wizard robes on top of their lingerie. Amiee starts to lick and suck on Corys nipples, before they both throw their robes to the ground. Then they slowly strip out of their bras and panties. Cory starts to give Luke a blowjob and then she asks him to fuck her next. He wants to, but not yet! First, Amiee wants to ride Lukes cock with her pussy. A few minutes later, Cory rides Lukes cock with her pussy, in the cowgirl position as well. Cory flips over into the reverse cowgirl position and she continues to ride his cock with her pussy. The two MILFs suck his cock clean afterwards, and then they both throw their lingerie and robes back on before they go.
Luke walks into the living room and he finds the two MILF wizards sitting on the couch. They tell Luke that their mission is to collect some magic in their mouths! Luke motions for Amiee to lie down on the couch in the missionary position, and he starts to fuck her tight pussy. Amiee flips over into the doggystyle position and Luke continues to fuck her pussy from behind. Amiee licks Corys nipples while she is getting fucked. Luke continues to fuck Amiees pussy until he is ready to cum. Then he explodes his cock into Amiees pussy, and his cum drips out of her! Cory walks over and she starts to scissor Amiee with Lukes cum in between them. They are hoping that by doing this, it will cast a magical pregnancy spell upon Amiee.