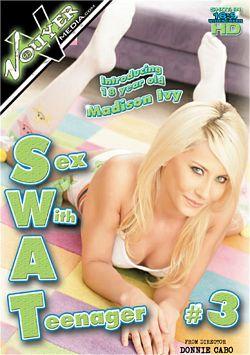 File size: 2.60 GB
Release Year: 2008
Cast: James Deen / Madison Ivy / Sascha Koch / Marco Banderas / Talon Valenti / Lana Violet / Sergio Suarez / Arnold Schwarzenpecker / Joe Blow / Jamie Lamore / Eric Swiss / Sarah Shine / Gina Lopez / Layla Exx
Duration: 03:01:02
Resolution: 720x480
Tags: Blowjob, Teen, Interracial, Cumshot, Cowgirl, Doggystyle, Big Dick, Natural Tits
The AVN best-selling series just keeps getting hotter! For some, S.W.A.T. suggests "Special Weapons And Tactics" and brings to mind an old "shoot 'em up" from the 70s. But for VOUYER MEDIA, it's all about Sex With A Teenager - gorgeous teen beauties who are all certifiably 18 or 19 at the time of filming!
18 year old blonde cover beauty MADISON IVY hits the ball out of the park with the very first scene, taking on studs one and two at a time before rounding out the action with a filthy three-on-one. Director Cabo himself raves "Madison was unbelievable. I've never seen an 18 year old perform with such supreme confidence. She came to the set well prepared and turned in an amazing scene."
19 year old LANA VIOLET performs her first ever two-on-one, and 18 year old newcomer SARAH SHINE delivers some sexy surprises as well. "It was only her seventh scene in the business," Cabo reveals, "and she caught us all off guard by giving us her first anal!"
Hot teens LAYLA EXX and JAME LAMORE round out the action in the main feature, and sultry GINA LOPEZ turns in a wild Bonus Scene. To Cabo, "Gina was a great find. She's a sexy 18 year old Latina from Florida very new to the business, and had great energy. She performed a really powerful scene with Joe Blow."