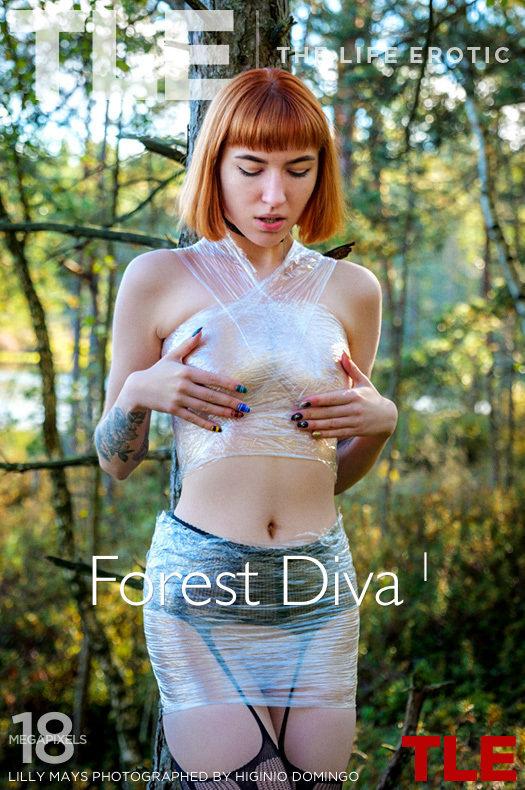 File size: 221,76 MB
Release Year: 06.04.2023
Cast: Lilly Mays
Resolution: 6000 x 4000
Tags: Solo, Orgasm, Masturbation
JPG | 80 | 6000 x 4000 | 221,76 MB
Sizzling-hot redhead Lilly Mays is no slacker but sometimes a girl needs a break – and, when her lunch "break" sees her scarfing down her food as she works, enough is enough. She sets her laptop to "out of office" and ponders how best to spend an afternoon of playing hooky. Then, as she gazes at the plastic wrap from her sandwich, inspiration strikes.
A half-hour later, she has gone from "al desko" to al fresco, getting back to nature by a lake in a nearby forest. She's leaning up against a tree stripped down to stockings-and-garters pantyhose, and wearing a transparent top and miniskirt fashioned from plastic cling-wrap. She cups her perfect breasts then tugs up her hem to expose her shaved pussy.
One finger circles her clit then she spins, flaunting her gorgeous ass as she masturbates. Next, she squats down, thighs and pink splayed wide, enjoying the breeze on her moist skin. With long, manicured nails she claws at the wrap, ripping it to free her tits – and the symbolism isn't lost on her: right now, she feels liberated and refreshed.
As her digits plow and pound her snatch Lilly holds on to the tree. She loves the feel of the rough bark against her skin and is tempted to hump and grind, but it might be a little tough on her tender folds. Instead she fingerbangs herself even more frenetically, sending zings of pure sensation to her clit and through her entire body.
It feels so intense, just being out here in the fresh air fully focussed on her own pleasure, and she wishes this moment could last forever. But as her orgasm builds she doesn't resist – she lets out a loud scream, not caring who hears, as her creaming pussy tightens and shudders around her drenched fingers. Tomorrow, she'll need to explain her unscheduled absence, but no matter what happens, today was totally worth it…