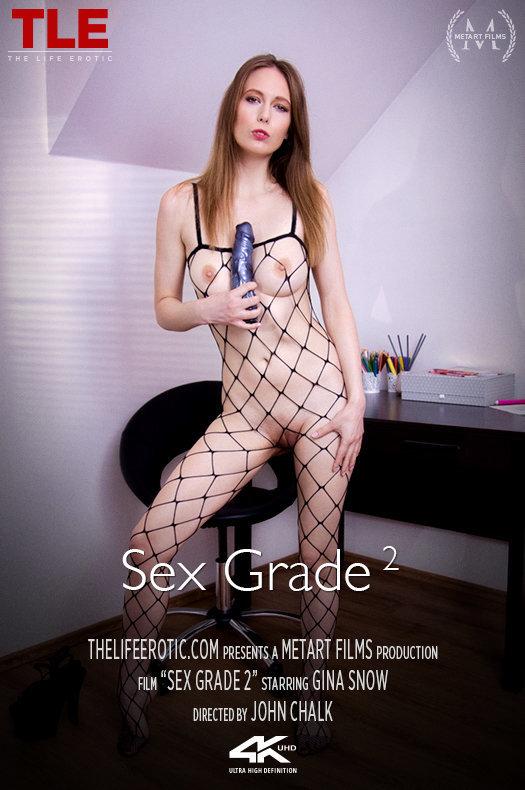 File size: 394,43 MB
Release Year: 04.04.2023
Cast: Gina Snow
Duration: 00:10:56
Resolution: 1920x1080
Tags: Solo, Orgasm, Masturbation, Vibrator, Dildo
00:10:56 Size: 394,43 MB Video: MP4 1080p HD
Smoking-hot teacher Gina Snow is at her desk, marking homework. She's dressed in a crisp white blouse and short leather skirt over a big-cross fishnet bodystocking, teamed with spike-heeled strappy platforms, sexy glasses, and red lipstick. Just when she looks ready to scream with boredom, she finds a horny letter among the F-grade essays. Suddenly, her mind snaps to attention.
She doesn't immediately recognise the name or handwriting – maybe it's a secret admirer. Even if it's from a certain co-worker who's caught her eye, it's… well, kind of inappropriate. Aroused as she reads on, Gina begins to masturbate, rubbing her shaved pussy through the wide mesh. Slowly, she unbuttons her top, and caresses her perfect-handful breasts and brownish-pink nipples.
Next, she kneels on her chair and reaches down to plow her fingers in and out of her juicing snatch. She removes her shoes, needing to stand steady on her pedicured feet as she hikes up her hem to fingerbang herself some more. Next, she loses the skirt to bare her perfect ass, then frees her tits, giving them more attention.
Back in her chair, she opens her desk drawer – inside of which she has stashed a large silver-gray vibrating dildo. Although she's slurping wet, she slathers the toy with lube, for a smoother ride as she buzzes her clit with the helmet. Shot from below, we see her splayed thighs twitch and tremble as her excitement rises and she dips the dildo in a little deeper in her snatch each time…
Lying on the floor, Gina pounds herself deep and hard, switching the vibrator up to full speed as she whimpers with pleasure. Body shaking, she lets out a high-pitched cry, toes pointing as she cums to a prolonged, intense orgasm. Finally, we find her back at her desk, awarding top marks to the explicit letter.