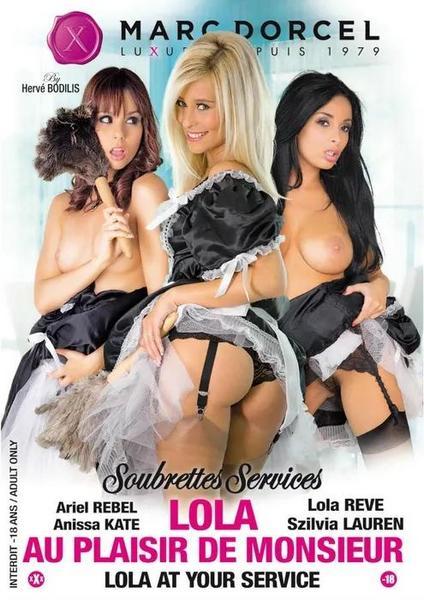 File size: 924 MB
Cast: Anissa Kate / Ariel Rebel / Lola Reve / Szilvia Lauren / Mike Angelo / Renato
Resolution: 640x360
Tags: Feature, Anal, Oral, Double Penetration, Milf, DVD Rips, France
Resume du film Soubrettes Services : Lola, au plaisir de Monsieur
Vous ne trouverez pas plus dociles que ces trois magnifiques soubrettes en uniforme et en lingerie fine !
Lola, Anissa et Ariel sont au service d'un couple de bourgeois pervers vivant dans une somptueuse villa de luxe. Tous les jours, vetues de leurs uniformes et de dessous affriolants, elles doivent se plier aux caprices et aux moindres fantasmes de leurs patrons. Mais cela ne les empeche pas non plus de s'amuser entre elles a l'occasion…
Anissa a renverse un vase dans le salon. Pour la punir, sa patronne l'oblige a s'asseoir sur un sex toy massif avant de se faire violemment sodomiser par le majordome. Vu les cris de jouissance que pousse Anissa, on peut se demander s'il s'agit vraiment d'une punition…
Apres avoir explore le corps de la petite Ariel dans l'apres-midi, Lola est appelee le soir dans le salon de la villa. La maitresse veut la voir se faire prendre par son mari et par le majordome en meme temps ! Avec cette premiere double penetration, Lola va decouvrir de nouveaux horizons de plaisirs.
Alors qu'elle est en train de ranger les courses, Anissa remarque que son patron regarde ses formes avec insistance. Toujours tres devouee, elle s'empresse de lui offrir sa poitrine genereuse et son anus serre. Cette sodomie bestiale sur le plan de travail de la cuisine va lui procurer un intense orgasme anal !
Genre : Feature, Anal, Oral, Double Penetration, Milf, DVD Rips
Country: France
Name : Anissa Kate, Ariel Rebel, Lola Reve, Szilvia Lauren, Mike Angelo, Renato
Year of release : 2013
File Type: MP4
Dear users as the owner of premium account you have the ability to
Watch Online
!!!