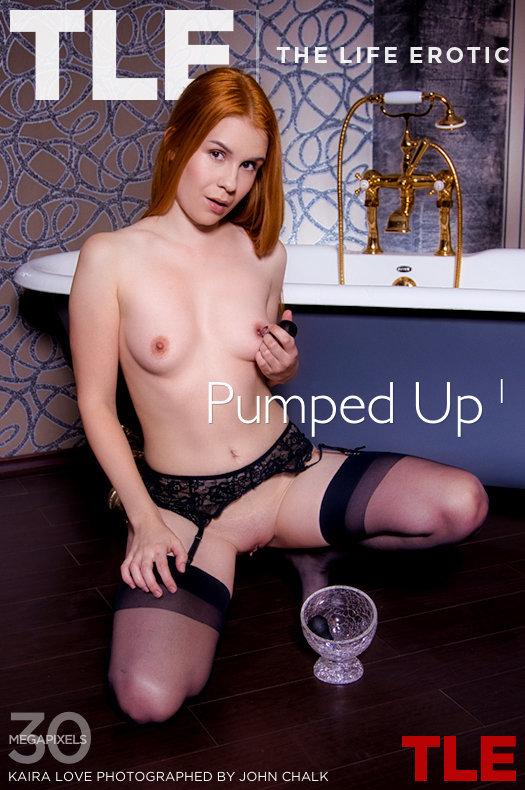 File size: 239,94 mb
Release Year: 25.02.2023
Cast: Kaira Love
Resolution: 6720x4480px
Tags: Solo, Orgasm, Masturbation, Vibrator, Dildo
JPG | 98 | 6720x4480 | 239,94 mb
Gorgeous redhead Kaira Love is hanging out in her bathroom – but good clean fun is the last thing on her mind. Her red mesh minidress leaves her beautiful breasts semi-visible, along with the sexy panties, black stockings, and garters she is wearing underneath it. As she begins a slow striptease, we sneak a peek at her new toys – a pair of nipple pumps.
Tossing her fiery hair, Kaira bends over the tub, ass on display, then stands to peel down the top of her dress. Her nipples are already hard, but she can't resist playing with her perky tits. Next, she loses her panties and sits, nylon-wrapped toes pointing as she flaunts her freshly shaved pussy. She gives it an exploratory stroke, splaying her butterfly lips, then turns her attentions back to her rack.
On her knees, she places the pump over one nipple, testing it out. Then she slides an O-ring on the clear plastic tube. Next, she pumps the bulb, sucking her fleshy nub inside, before rolling the ring down and around it to keep it stiff and swollen. Her other nipple gets the same treatment – freeing Kaira to lavish pleasure on her pussy.
Her pink is smooth, slick and puffy, and her fingers sink inside of her so easily. She strums her inner and outer lips, slathering her entire crotch with her juices, then pounds herself hard. Dropping forward on all fours, she slides her hand between her legs and frigs herself from behind.
When she is seconds from cumming, she rolls on her back, palm grinding on her slit as she fingerbangs herself deeper. Her ringed nipples throb at every touch, like they're directly connected to her clit – then, suddenly, her orgasm hits. She screams out loud as intense pleasure pulses through her, then lets out one final cry of delight as she removes the rings and feels sensation tingle into her nipples…