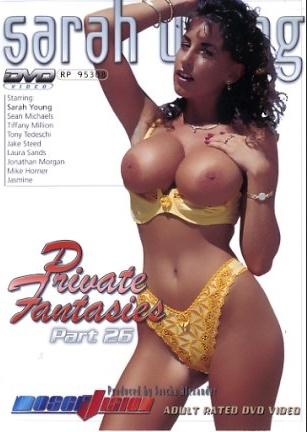 File size: 1.89 GB
Release Year: 1993
Cast: Sarah Young / Sean Michaels / Tiffany Million / Mike Horner / Steve St. Croix / Laura Sands / Jonathan Morgan / Jasmine
Duration: 01:36:24
Resolution: 720x480
Tags: All Sex, Blowjob, Classic, Feature, Couples, Anal, Big Tits, Threesome, Cumshot, Big Dick, Cunnilingus, DVDRip
This edition of the compilation series leads off with a wonderful Sean Michaels/Sarah Young coupling, that starts with a tight closeup of Sean's breast worship for his frequent co-star.
She is standing up, and the photography is perfect in showcasing her many physical attributes, making for a lengthy vignette that never outlives its welcome after repeated viewings. In this show, it is presented in a longer version than usual, with the XXX sex followed by a morning after when Sean returns to tell roommate Sarah that he's decided they should just stay friends rather than become lovers, a sad ending that Young acts with considerable panache.
The other three segments feature some top talent: Tiffany Million masturbating solo and then magically joined for a threesome by Jake Steed and Tony Tedeschi; as well as Mike Horner and Jonathan Morgan each getting to service lovely models.