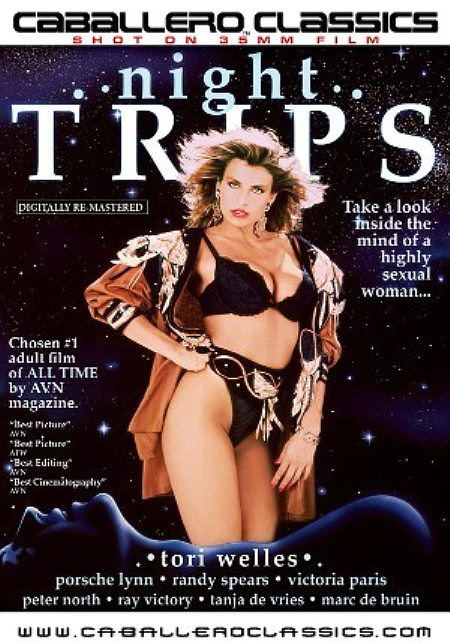 File size: 1030 MB
Release Year: 1996
Cast: Peter North / Randy Spears / Porsche Lynn / Victoria Paris / Jamie Summers / Ray Victory / Tori Welles / Tanja De Vries / Marc De Bruin
Duration: 1:13 Hour
Resolution: 640 x 480 Pixel
Tags: Oldie, Classic, Milfs, Feature, Oral, Hairy, Licking, Cum In Mouth, Big Tits, Hot Wife
Night Trips640 x 480 Pixel - MKV - 1:13 Hour - 1030 MB
Cast: Peter North, Randy Spears, Porsche Lynn, Victoria Paris, Jamie Summers, Ray Victory, Tori Welles, Tanja De Vries, Marc De Bruin

Director: Andrew Blake 
Released: 1989
Category: Oldie, Classic, Milfs, Feature, Oral, Hairy, Licking, Cum In Mouth, Big Tits, Hot Wife

Video:
Codec: MKV
Laenge: 1:13 Std.
Aufloesung: 640*480 Pixel
Bitrate: k.A. Kbps
FPS: 23,97

Audio:
Sprache: Englisch
Codec: AAC
Sample-Rate: 48000 Hz
Bitrate: k.A. Kbps

Take A Look Inside The Mind Of A Highly Sexual Woman.
It's midnight and Tori Welles can't. Her relentless, subconscious fantasies are driving her to the brink of a complete sexual breakdown. But with the help of a high-tech Mindscan Imager, two dedicated scientists plan to turn her Night Trips into reality. One sizzling erotic fantasy after another erupts while Tori is hooked up to this incredible machine. Frantic, anonymous sex...girl/girl sensuality and interracial lust are just some of her mind-blowing dreams. The depths of passion are shocking! Can Tori gain control? Sometimes fantasy can become reality and it's just as hot!