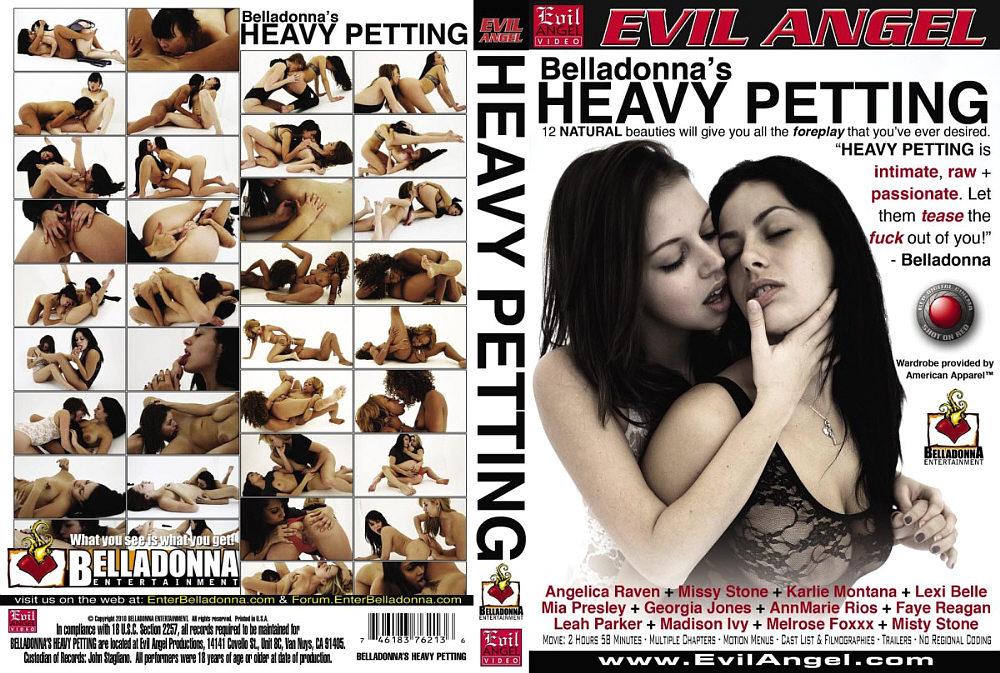 File size: 2290 MB
Release Year: 2010
Cast: Angelica Raven / Ann Marie Rios / Georgia Jones / Faye Reagan / Karlie Montana / Leah Parker / Lexi Belle / Madison Ivy / Melrose Foxxx / Mia Presley / Missy Stone / Misty Stone
Duration: 2:32 Hour
Resolution: 960 x 544 Pixel
Tags: All Girls, Gonzo, Lesbian, Hardcore, Petting
Belladonnas Heavy Petting960 x 544 Pixel - MP4 - 2:32 Hour - 2290 MB Cast: Angelica Raven, Ann Marie Rios, Georgia Jones, Faye Reagan, Karlie Montana, Leah Parker, Lexi Belle, Madison Ivy, Melrose Foxxx, Mia Presley, Missy Stone, Misty Stone

Studio: Evil Angel
Director: Belladonna
Released: 2010
Category: All Girls, Gonzo, Lesbian, Hardcore, Petting

Video:
Codec: MP4
Laenge: 2:32 Std.
Aufloesung: 960*544 Pixel
Bitrate: 1950 Kbps
FPS: 23,97

Audio:
Sprache: Englisch
Codec: AAC
Sample-Rate: 48000 Hz
Bitrate: 192 Kbps

If you're sick of glam-style "lipstick lesbians" faking their way through porn-style girl-girl scenes, Belladonna has the antidote. In Heavy Petting, the legendary, bisexual director invites us to peek into six passionate couplings where real girls make love as they would in their bedrooms. The girls are natural beauties, unadorned with make-up, high heels, silicone or pretense. They take the time to really touch each other and share long, languid foreplay sessions, teasing each other and the audience, showing their true desire. All of this is presented in stylized, artistic scenes shot in an all-white environment, with slow-motion flourishes, accompanied by haunting, introspective music. Leah Parker and Mia Presley kiss and lick each other sensually, slowly revealing their natural bodies. They crawl over one another, lovers massaging and slowly stripping, at long last lapping pussies and then masturbating together before sharing a soft, final kiss. Brunettes Missy Stone and Angelica Raven wear lacy frocks. They rub bodies, sit in each other's lap, then sweep their hair romantically aside and trace their lips with fingers when they're ready to kiss. Panties are peeled off seductively; nervous laughter, hand-holding and tummy kisses lead to nipple-pulling, fingering and masturbating, even toe-sucking. Long, auburn-haired Karlie Montana and hot Latina Ann Marie Rios hold each other's head to kiss and suck lips. Hugging leads to intense labia licking with fingering. "Look at me with your fingers inside my body," exclaims Ann Marie. They make love with limbs draped elegantly and share a lovely 69. Faye Reagan, a freckled, long-haired redhead, and Georgia Jones, a long-haired brunette in tight, black pants, look like intimate girlfriends. Faye sucks Georgia's toes and playfully rubs her butthole, then nuzzles it with her tongue. They share an ass-to-mouth kiss, knead tits and bump pussies, French kissing all along. Georgia spits into Faye's red-pubed snatch and, after a long session, licks the juice from Faye's face. Misty Stone and Melrose Foxxx are gorgeous, leggy black girls. Melrose crawls around the standing Misty to eat her from behind. Misty fingers Melrose's pussy, then feeds the sticky fingers to her mouth. Some brown sugar 69 leads to a scissor-style humping session and yummy face-sitting. Blonde cutie Lexi Belle and hot A-cup brunette Madison Ivy share a dramatic encounter. Madison contorts herself, putting her legs behind her head to give Lexi unimpeded access. Lexi fingers Madison's ass, then her snatch while eating her butt. When Madison laps Lexi, the blonde confesses, "Oh my God, I love you." Desperate scissoring, baby talk, squealing and kissing climax a passionate scene.