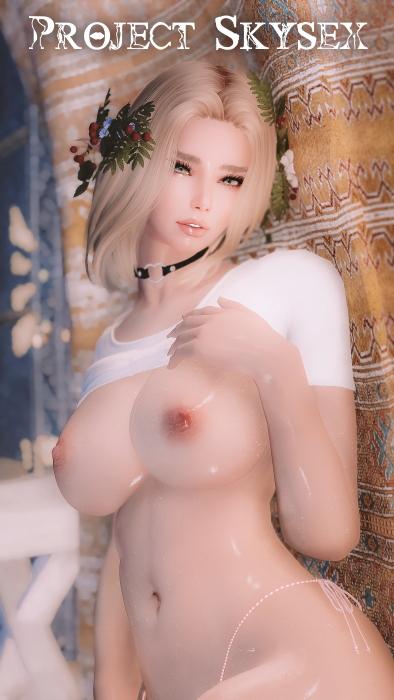 File size: 73 Gb
Tags: Action, RPG, Anal, Oral, Group, BDSM, All Sex
Year of issue: 2018
Updated date: 2020/06/06
Genre: Action, RPG, 3D, Anal, Oral, Group, BDSM, All Sex
Censorship: Missing/There is a patch to remove
Developer/Publisher: Shenija, SLMP, Bethesda
Platform: PC/Windows
Publication type: Pirate (unofficial)
Version: 29-05-2020 FINAL (fix)
Game language (plot): Russian
Interface language: Russian/English
Voice language: Russian/EnglishSystem requirements:
OS: Windows 7,8.1,10 x64 (not compatible with 32-bit systems. Assembly is also incompatible with Windows 8.0)
CPU: Intel Core i5-4430S / AMD FX6300
RAM: 12 Gb (6 Gb)
VRAM: 4 GB (2 Gb)
HDD: ~70 GB

Info:
The long-awaited continuation of 2 assemblies of Project Skysex on the SLMP engine and Skysex 5.03, combined into one global project "Project Skysex 2".
Project Skysex is powered by 2 engines and it's up to you which one to use.
SLMP is the most beautiful of the 2, but it is also demanding on the hardware. Better graphics and optimization.
Skysex 7 is an updated version of Skysex 5.03 with cut-down graphics for slower PCs and laptops. Many 2k textures have been replaced with 1k for better performance.
The assembly also follows its traditions: the best HDT genital physics, fully edited sex positions (new), 2 bodies at the user's choice UUNP and BHUNP with SMP-PE physics, simplified chapter system, you choose what to put in the installer (new), exclusive installer (new), updated SkySex launcher, mods updated to the latest versions and other changes.
All info in PSS2readme.chm in russian language!