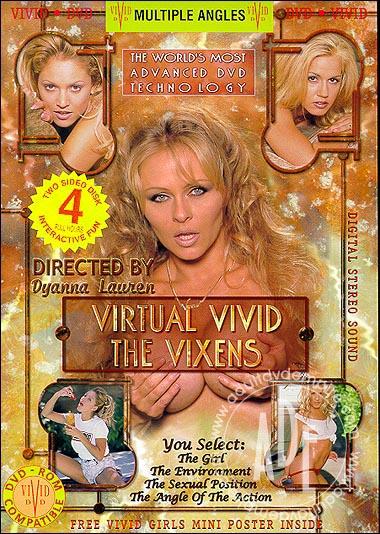 File size: 7,2 Gb
Cast: Dyanna Lauren / Inari Vachs / Sky
Resolution: 576p
Tags: Interactive, Multiangle
Year:
1999
Country:
USA
Genre:
Interactive; Multiangle
Studio:
Vivid
Starring:
Dyanna Lauren, Inari Vachs, Sky
Info:
Overall, a pretty cool concept. Vivid's takes its popular interactive sex room format and extends it into a full blown participatory feature presentation. Usually, Vivid puts in a few interactive scenes as "extras" on their adult DVDs with each virtual vignette lasting only a few minutes at most. That said, I can understand if some of you think an entire disc full of this stuff sounds like it might get tedious after a while. But due to a good mix of options, environments, angles and sexual positions, that doesn't occur at all.In fact, as a solo act, the virtual reality concept works very well. Of course, having Dyanna Lauren as your director and tour guide in this virtual world can't hurt matters any either. She doesn't do more than lead you through the process, but it's still fun having her around. Her presence alone helps to make this one experience - virtual or otherwise - that your won't soon forget.
Just to let you know, some of you dirty bastards out there might find this DVD to be a bit restrictive for your personal tastes. Basically, that's because you're limited to using only the girls, settings, and sexual conditions which Dyanna has deemed worthy to include on this disc. (Thus, you can't use this DVD to pretend that you're banging your sexy former school teacher or that good looking co-worker who refuses to acknowledge you on a daily basis). But with such sultry babes as Inari and Sky to choose from, you won't even notice the difference. In fact, you'll probably enjoy it even more than your originally intended fantasy.
So, get ready to be the producer of your very own custom made porno. "Vivid's Virtual Vixens" are waiting to do your bidding. The "real world" just doesn't get any better than this!
DVD features:
Interactive Menu
Virtual 2 Girl Blowjob
Fully Interactive DVD
Multiple Angles
Multiple Positions
Moving Menus
Picture in Picture
Dyanna Montage of Sex Scenes: 4 scenes
Photo Gallery
Interactive Bonus Rooms
Bloopers and Outakes
DVD-ROM Compatible
Quality:
2xDVD5
Format:
DVD Video
Video codec:
MPEG2
Audio Codec:
AC3
Video:
MPEG2 Video 720x576 (16:9) 25.00fps 9000kbps [Video]
Audio:
Dolby AC3 48000Hz stereo 160kbps [AC-3]
Size:
6.99 GB