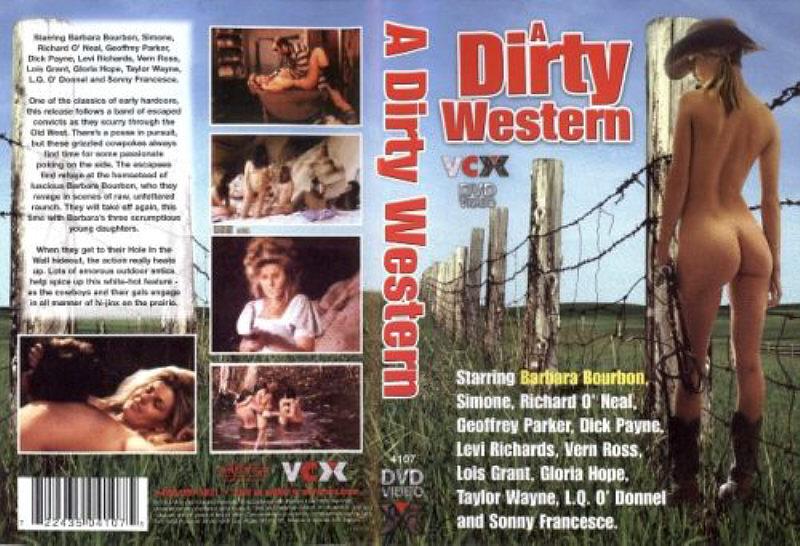 File size: 937 MB
Release Year: 1975
Cast: Barbara Bourbon / Geoff Parker / Dick Payne / Levi Richards / Vern Rossi / Starlyn Simone / April Grant / Gloria Hope / Lee O'Donnell / Sonny Franzese / Richard O'Neal
Duration: 1:12 Std.
Resolution: 640 x 480 Pixel
Tags: Oldie, Classic, Retro, Vintage, Feature, Wild West, Costume
A Dirty Western
640 x 480 Pixel - AVI - 1:12 Std. - 937 MB
Cast: Barbara Bourbon, Richard O'Neal, Geoff Parker, Dick Payne, Levi Richards, Vern Rossi, Starlyn Simone, April Grant, Gloria Hope, Lee O'Donnell, Sonny Franzese

Studio: VCX
Director: Joseph F. Robertson
Country: USA
Released: 1975
Category: Oldie, Classic, Retro, Vintage, Feature, Wild West, Costume

Video:
Codec: AVI
Laenge: 1:12 Std.
Aufloesung: 640*480 Pixel
Bitrate: 1495 Kbps
FPS: 30

Audio:
Sprache: Englisch
Codec: MP3
Sample-Rate: 48000 Hz
Bitrate: 256 Kbps

One of the classics of early hardcore, this release follows a band of escaped convicts as they scurry through the Old West. There's a posse in hot pursuit, but these grizzled cowpokes always find time for some passionate poking on the side. The escapees find refuge at the farmstead of luscious Barbara Bourbon, who they ravage in scenes of raw, unfettered raunch. They then take off again, this time with Barbara's three scrumptious young daughters. When they finally get to their Hole in the Wall hideout, the action really heats up. Lots of amorous outdoor antics help spice up this white-hot feature, as the cowboys and their gals engage in all manner of heated hi jinx on the prairie. Saddle up!