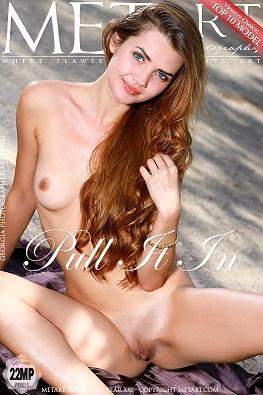 File size: 268 MB
Tags: ankle, strap, high heels, long, Tan, lines, shaved, pussy, Upskirt, breast, holding, outdoors, brunette, erect, nipples, ass, spread, legs bra and pan
Pull It In
Sep 18, 2020
Georgia in Pull It In
Stunning brunette Georgia looks like a movie star as she poses by the ocean in her glamorous black two-piece and high heels, but she's more sex kitten than screen siren as she starts to strip. With a playful smile, the vivacious blue-eyed beauty flings away her bikini top, hands tracing the sweet curves of her lovely breasts. She peels down her waist-cinching panties to expose her slender midriff and then her shaved pussy, moving to her knees to ensure you don't miss an inch of her gorgeous ass.
Georgia
Age when shot: 25
Eye color: blue
Hair color: brown
Height: 173cm
Weight: 54kg
Breast size: medium
Measurements: 89/61/91
Country: Russian Federation
Ethnicity: Caucasian
Bio: Now, my most basic and interesting hobby is cars. I love sports cars and of course the original retro cars, they feel the spirit of the age. I love the history and unusual design where every detail is thought out I travel a lot myself behind the wheel of my car and a modern coupe,but also the dream of a retro cabriolet azure. Given my passion,I am often a guest or working at car racing. I love the night city race. I am a very positive and charismatic woman, nothing could spoil my mood. I like to dance, for a long time I engaged in salsa. I also love to sing and joke with friends. I like cheerful disposition, creativity, and especially in men, a sense of humor.
128 Photos - 5700 Pixel - 268 MB
Keywords: ankle, strap, high heels, long, Tan, lines, shaved, pussy, Upskirt ,breast, holding, outdoors, brunette, erect, nipples, ass, spread, legs bra and panties, curly hair, doggy style, Striptease, LIPSTICK, Breasts bracelet, russian federation